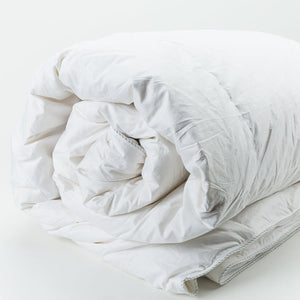 Kapok Pure Duvet
Sale price Price $225.00 Regular price Unit price / per
Our Kapok Collection offers products that are sustainable and planet-friendly.  The kapok fibers are naturally hypoallergenic, anti-microbial and Dust mite resistant. Enjoy the pure luxury of natural Kapok fibre.
The kapok fibre comes from the soft, fluffy seed covering of the kapok tree. The Kapok Tree is unharmed and continues to produce seeds year after year. Our kapok fibre is grown naturally.   

This plant-based duvet is what dreams are made of Featuring premium comfort and warmth for all seasons. Enjoy the luxurious comfort of our soft and fluffy Kapok fibre. 
Encased with a crisp 233 Thread Count 100% Cotton fabric. 
Our unique "Locked Box Baffle Box" construction keeps the fill in place and allows the fill to loft to its maximum level.
Hypoallergenic fill offers a restful night's sleep.
Our outer shells are Oeko-Tex 100 Certified and produced in a BSCI certified factory.
Designed, developed and manufactured with care in Canada. 
10-year guarantee on workmanship and materials.
Exceptional Lifestyle NOW!
Care Instructions: Always use with a duvet cover. The fill is cleaned to uncompromising standards as such regularly laundering the duvet is not required as long as you can keep the cover of the duvet clean. If cleaning the duvet is required please follow these simple steps. Spot clean with pure soap and a damp cloth. To dry either air out or put in the tumbler on low heat. To launder the duvet either use a reputable service that has experience with cleaning down and feather duvets or to launder at home use a minimal amount of pure soap in cold water on gentle cycle with an extensive rinse cycle. The key is to make sure the soap residue does not remain on the fill as this will drastically reduce the loft and fluff of the duvet. To dry put in the tumbler on low heat, as you want to make sure the entire pillow is thoroughly dry. The drying will take a considerable amount of time.