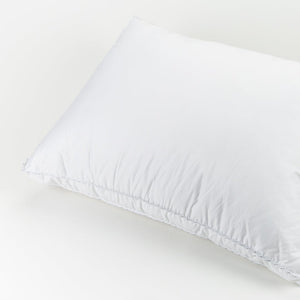 Kapok Pure Pillow
Sale price Price $75.00 Regular price $0.00 Unit price / per
Our Kapok Pillow Collection offers products that are sustainable and planet-friendly.  Enjoy the pure luxury of natural Kapok fibre.
The kapok fibre comes from the soft, fluffy seed covering of the kapok tree. The Kapok Tree is unharmed and continues to produce seeds year after year. Our kapok fibre is grown naturally.   

100% Cotton, 233 Thread Count Cover.
This pillow provides unmatched comfort and is exceptionally resilient.
This pillow is entirely washable; however, the use of a pillow protector will eliminate and or reduce the need to wash your pillow. If you must wash your pillow, please follow the following directions, machine wash on a gentle cycle, with pure soap, gentle dry on low heat as you want to dry the pillow evenly.
Colour White